In honor of Fire Safety Week, BASF's Chattanooga site and Highway Transport donated a tanker trailer to the Chattanooga Fire Department for confined space rescue drills during the Department's annual training.
"Having equipment available for training purposes is invaluable to the fire department. We're incredibly thankful to BASF Chattanooga for continuing the strong partnership between our organizations," said Lindsey Rogers, Public Information Officer with the Chattanooga Fire Department.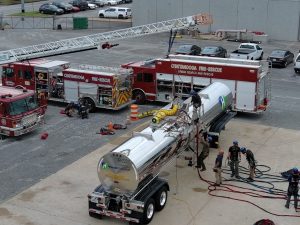 BASF regards the protection of health, safety and the environment as its most important responsibility, and partnering with local emergency response agencies like the Chattanooga Fire Department helps ensure the safety of the BASF team members and the community.